adidas Golf Innovations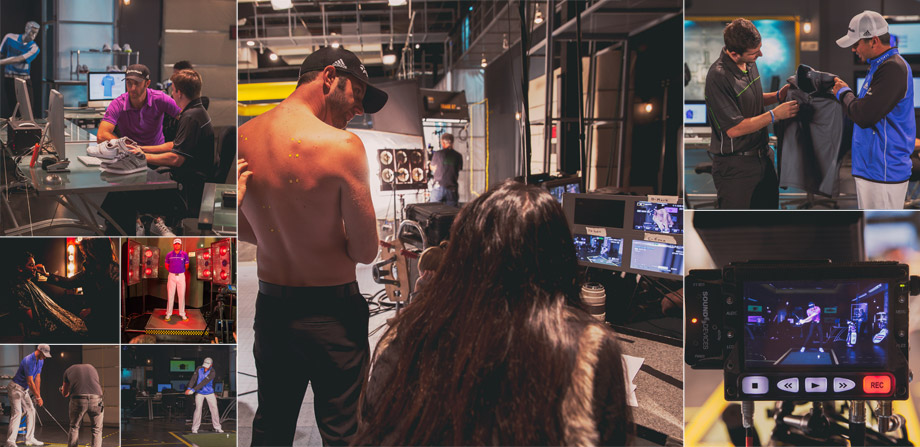 adidas Golf, an industry leader in innovation, technology and performance footwear and apparel released six videos highlighting the company's constant pursuit of innovation to create the highest performing apparel and footwear for the best players in the world. To visually demonstrate the proof points and key technologies within the 2014 apparel and footwear collection, adidas Golf Tour staff professionals Jason Day and Dustin Johnson were subjected to a series of rigorous tests and interactive experiments to simulate the extreme environments both professional and amateur players experience on the course throughout the year.

John Brenkus, six-time Emmy Award winner, creator of "Sport Science" and New York Times best-selling author of "The Perfection Point", hosts the series that brings the science behind each innovation to life. Tested both with and without the new apparel and footwear for consistency and accuracy, both athletes' performances were closely measured and compared by highly advanced data capturing tools and were presented graphically through a series of unique and engaging videos – one for each of the six key technologies to be unveiled by adidas Golf throughout 2014.

*John Brenkus is a paid spokesperson of TaylorMade-adidas Golf
Why Freedom of Movement Is So Important to a Golfer's Swing
Designed with the golfer in mind puremotion polos feature flexible fabrics that won't restrict your movements throughout the swing and will keep you cool from the first tee to the 18th green with high performance, moisture-wicking fabrics. Puremotion is available in a variety of colors and styles to fit every player's preference.
How Heat and Humidity Affect a Golfer's Performance
Utilizing proprietary climachill™ fabric featuring technologies designed to keep you cool, climachill polos are our most advanced, most comfortable warm weather golf shirts available today. Specifically-designed aluminum dots on the inside back neck create a cooling sensation and 360˚ ventilation allows for superior breathability and maximum comfort.
How The Evolution In Golf Spikes Has Improved Traction and Stability
Gripmore: The Footprint of a Revolution. With 243 points of contact, the adicross gripmore designed by adidas Golf provides the ultimate combination of versatility and performance. The midsole features internal PU foam and classic vulcanized sidewall for enhanced comfort and a sleek, stylish profile. Gripmore technology is also available in our pure 360 gripmore sport, created with an ultra-lightweight seamless mesh upper.
How fatigue Affects Consistency In Your Game
Light is Energy. Light is Power. Light is adizero One. Revolutionizing the fit, feel and shape of adidas Golf footwear, this line has been specially-engineered from the ground up to include only what's essential for peak performance. The ultra-light sprintskin+ one-piece upper with climaproof protection delivers maximized comfort and a glove-like fit.
How Cold Weather Affects a Golfer's Performance
Built for those days when it's so cold you'll have the whole course to yourself, our climawarm™+ 3-Stripes 1/4 Zip Colorblock Training Top is an indispensable partner in the fight against frosty rounds. An amazingly warm-yet-non-restricting fleece top features a mock turtleneck collar for added warmth, a quarter-length zipper for adjustability, and contrasting body and sleeves for extra style.
How Walking 18 Holes Impacts a Golfer's Performance
Meet pure 360 designed by adidas Golf: pure performance, pure comfort. Constructed with poured PU, the revolutionary new puremotion midsole and outsole deliver ultimate comfort. The upper is crafted with our thinnest and softest leather for superior fit and feel, while the outsole features swing plane traction and a new midfoot cleat to create incredible grip and stability.