Help Menu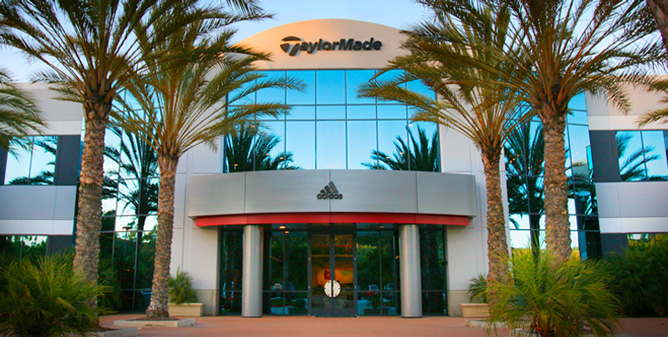 Au printemps de 1979, un vendeur d'équipement de golf nommé Gary Adams a hypothéqué sa maison pour 24 000 CAD et créé la société TaylorMade. Il a loué un édifice de 557 mètres carrés (6 000 pieds carrés) qui abritait antérieurement une usine d'assemblage de téléviseurs. Lui inclus, l'entreprise comptait trois employés et un seul produit novateur : un bois nº 1 de 12 degrés coulé en acier inoxydable. L'allure et le son de ce nouveau bois métallique étaient différents de ceux d'un bois classique, mais encore plus, sa performance était entièrement différente. Le lestage périmétrique de la tête de bâton offrait une tolérance supérieure lors des coups manqués, alors qu'un centre de gravité abaissé facilitait l'envol de la balle. Adams, le fils d'un professionnel du golf, insistait pour que les bâtons TaylorMade conservent des liens avec l'allure et la sensation que les vrais golfeurs désiraient dans un bâton de golf authentique. Ils étaient voués à combiner innovation et authenticité, à toujours demeurer passionnés du sport et à être concurrentiels; à travailler fort pour s'établir et croître. Ces quatre principes allaient les mener loin.
TaylorMade, adidas Golf et Ashworth respectent et pratiquent encore aujourd'hui les mêmes valeurs que celles identifiées par Gary Adams il y a 30 ans alors que nous continuons à offrir des produits qui aident les golfeurs de tous les niveaux à atteindre leur plein potentiel. Notre mission n'a pas changé depuis 1979 : Créer les produits de golf les plus performants au monde. Découvrez-en plus sur TaylorMade-adidas Golf et ses marques au 1 866 530-TMAG (8624) ou en ligne à :

taylormadegolf.ca
adidasgolf.ca
ashworthgolf.ca
adamsgolf.ca

Appelez-nous
1-855-626-6338
To place an order or ask questions regarding an existing order, call us toll free at 1-855-626-6338. Outside of the US please call 415-252-4300.
Customer Service Hours of Operation: M-F 9am – 4:30pm EST. We're closed on weekends and most Canadian Holidays
Besoin d'aide?
Si vous avez une question à poser ou besoin d'aide avec votre compte, vous pouvez nous contacter pour qu'on vous aide.
Écrire un courriel au service à la clientèle
Service à la clientèle
Du lundi au vendredi
de 9 h à 16 h 30 HNE
1 855 626-6338